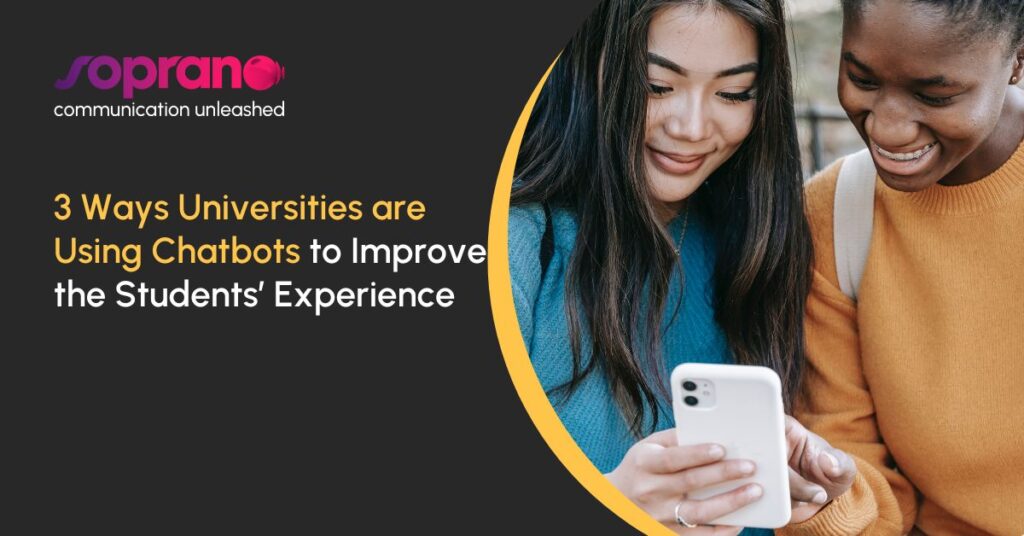 University-aged students are now entirely digital natives. They know how to use technology and expect businesses to use it too. Learn here 3 ways universities are using chatbots to improve the student experience.
No student today would imagine turning a hand-written paper in. A university without a website? Unlikely. Computers banned from the classroom? It might happen, but again, unlikely.
Communication methods have significantly evolved in the last two decades thanks to the proliferation of smartphones and messenger applications. Universities would greatly benefit from using these applications to communicate with their students via live chat in real time, a friendly and familiar channel that many students will regularly use to chat with their friends for academic and social purposes.
The issue facing universities who implement this method include; some institutions having thousands of students registered on hundreds of different courses at any given time, the need for employees to spend time responding to live chat messages, and the limitations of how many hours that live chat can be activated due to staff availability.
3 Ways Universities are Using Chatbots
All of these issues can be resolved by introducing conversational artificial intelligence software (aka 'chatbot') capable of providing student support to an entire student population, regardless of its size.
Chatbots for Boosting Students' Support
Student support chatbots can serve several different functions. It can be used as an information desk, allowing users to ask questions about the institution, its campus, and typical student life at that particular university.
Utilise your existing knowledge base, such as your university's website, to unlock information with an engaging, interactive platform.
Learning support is also an option, with a chatbot as a study companion or revision tool for re-enforcing knowledge gained in the classroom. Students can support their studies through a chatbot which can be tailored to each and every available course.
A chatbot can also provide a more in-depth service to students, helping them keep track of academic commitments and even offering digital life coaching to students struggling with their studies.
Creating a tool that can support students with any aspect of their lives will undoubtedly increase satisfaction with academic and nonacademic life, perhaps making the difference between passing and failing.
Chatbots for improving the admission process
In recent years, many universities have established a solid online presence with large websites full of information about the institution, its history, campus life, and courses.
Students can find and digest important information through these websites at their own pace. But as new technologies and ways of communication emerge, an insightful website it's no longer enough. Students have grown up in a technological world and have an innate understanding of how to use it. They now expect that education institutions should be capable of incorporating technology into their products or services.
Universities are taking advantage of the latest technologies, especially those which allow them to communicate better with potential students.
An AI chatbot is one such technology. They revolutionise the higher education sector by modernising how universities communicate with current and future students.
Implementing a chatbot within the admissions process gives prospective students a new way of communicating with your university 24/7 and guarantees an immediate response.
The chatbot can be programmed to provide users with any information they choose. Your knowledge base may be available on your university's website, but do people know how to find (and navigate) it? With a chatbot, prospective students can ask questions in their own words and immediately receive the relevant information.
Besides, chatbots provide support 24×7 and are crucial for scheduling meetings when your team is unavailable. According to Intercom, chatbots help companies to increase sales by 67%.
HR Chatbots for reducing team pressure
University human resources departments are often required to deal with a wide breadth of academic departments and nonacademic staff (cleaners, security, union staff, etc.) who keep an institution running smoothly.
Maintaining a healthy balance across such diverse employees would take a lot of work, even for the most well-oiled HR teams.
Reducing pressure on the relationship between your HR department and employees by making communication as straightforward as possible should be a key goal for your future HR strategy. Achieve this by developing an atmosphere where employees can be confident that their HR needs are met.
The smoothest process capable of achieving this at the scale required is by implementing an HR chatbot to meet the needs of your employees.
Prevent your HR team from being overwhelmed by demand with an HR chatbot standing on the front as the initial point of contact for employees across your university. The chatbot can be programmed to acknowledge which department an employee works within, tailoring the process to their needs regardless of whether they work for the estate team or on the board of directors.
Knowing which department an employee works for allows the chatbot to provide them with information relevant to their role. In communicating with a chatbot capable of retaining this knowledge, employees save time that would previously be spent confirming their identity with the HR team before they can get any information they require or painstakingly search for information in an employee handbook.
Speeding up the process for non-HR employees is undoubtedly a perk, but the time saved for your HR team is two-fold; the HR rep who would previously have spent time with the employee can now spend that time on another task.
Increased productivity in the HR department and for other employees adds up over a year to make your staff's time more valuable throughout the entire institution.
You can even host the chatbot on your existing internal framework. Keep the intranet at the core of your communication by simply placing the chatbot as an unobtrusive optional tool available to all your employees. Staff will only use it if they want to, meaning they can still come directly to your HR team if it's urgent or requires a more human touch.
At Soprano, we provide a robust Conversational AI solution for universities and educative institutions with students of all ages. Want a free consultancy? Our team would love to talk with you.
Fill out the form, and we'll get in touch soon.