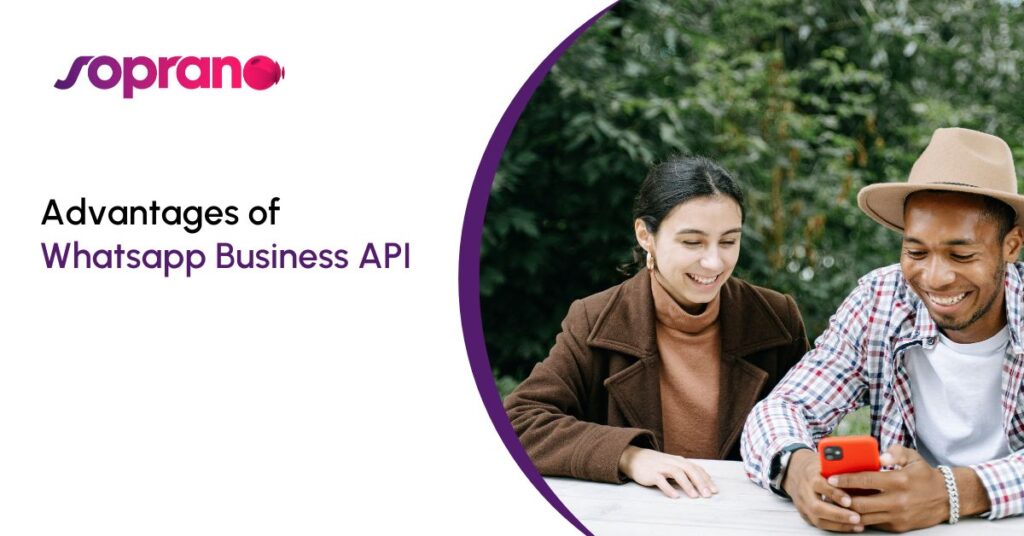 It's no news that WhatsApp is one of the world's most popular messaging apps. It started as an easy way to chat with friends and family, but now it goes well beyond that. With more than 2 billion active users, the benefits of the WhatsApp Business API have become critical for businesses and governments to engage with their audiences. Are you not using it already? Discover in this article why you should.
Worldwide digital transformation is knocking on businesses' doors. Companies must be as flexible as possible to give their audiences what they want. And what is it? More communication channels and more power to choose the ones they prefer to talk with brands.
The omnichannel communication experience of chats, texts, and voice is more important than ever. In this scenario, businesses are excited about the benefits of WhatsApp Business API because it's an excellent opportunity to reach them in an easy and meaningful way.
What is WhatsApp Business API?
WhatsApp started to enter the business world in 2018, with the launching of WhatsApp Business. This free option added new features for small and medium organizations, such as quick responses, tags, and product catalogues.
Rapidly, WhatsApp became a fundamental part of business communication. But the problem was that it was not so useful for big enterprises or customer service teams with many people because they had to use a mobile phone to send messages.
To solve this, a few years later, the company launched a WhatsApp API for Business to improve customer communication through WhatsApp. The main difference between WhatsApp Business and WhatsApp API is that the API allows big enterprises to integrate WhatsApp into their existing IT systems to deliver and receive massive notifications.
Thanks to WhatsApp Business API features, organizations and governments can create chatbots, send automated messages with important information, and much more without the need of using a mobile phone.
3 advantages of WhatsApp Business API that make it a robust mobile channel
WhatsApp adoption is growing exponentially.
With groups, stickers, voice, video calling and status, this easy-to-use mobile messaging channel has become more than just a texting service: it's a fundamental part of users' daily communication.
The statistics say that WhatsApp had over 4.9 billion total downloads in 2020 and that it is the favorite mobile messaging app in more than 100 countries.
But with so many options out there, someone may think that it will not be like this forever. But that's not true: According to Statista, monthly active WhatsApp users worldwide increased from 200 million in April 2013 to 2 Billion in March 2020.
The global adoption of WhatsApp is a great benefit for businesses. Incorporating this mobile channel into an omnichannel customer experience strategy helps to engage massive communities efficiently and effectively.
START ENGAGING YOUR CUSTOMERS WITH SOPRANO WHATSAPP API FOR BUSINESS
WhatsApp allows rich media content that is genuinely engaging.
One of the most potent benefits of WhatsApp is the types of content that businesses can send to consumers.
With our WhatsApp API, organizations can send and receive videos, images, pdf, weblinks, and more. In addition, another important thing is that the content is actionable.
That actionability is key to making successful WhatsApp campaigns for marketing and customer service. With a WhatsApp API, organizations can create intense brand experiences for customers using templates, lists, and 2-way decision-tree tools for scripted conversations.
WhatsApp is users' favorite mobile channel.
People want to have conversations with brands in their frequently used channels, and WhatsApp is their favorite. A recent study says that WhatsApp is an essential mobile app for 88% of young adults.
Besides, WhatsApp it's not the favorite app to chat with loved ones. People also use it to ask for a service they are interested in, make an appointment with their doctors, buy products, and much more.
Will Cathcart, CEO of WhatsApp, declared that 175 million people send messages to WhatsApps' business accounts every day. The company also stated that 40 million worldwide users check a business catalog once a month.
With Soprano WhatsApp API for Business, organizations can bring their own phone number and verify their WhatsApp account. This shows users that they can trust the brand and helps to gain loyalty.
How to leverage the benefits of WhatsApp Business API
The benefits of WhatsApp are great, and what is better is that its integration is effortless. With Soprano Connect, organizations can achieve rapid integration into WhatsApp API for Business without additional development work.
Our Communications Platform as a Service (CPaaS) is feature-rich and offers low-code or no-code API capabilities. It allows big enterprises and governments to reach their audiences in multiple mobile channels from a single dashboard.
Adding Soprano WhatsApp API for Business opens a new world of interactions. Organizations can create bi-directional interactions and initiate business to end-user conversations.
For example, financial institutions can send reminders, operation notifications, and one-time passwords. It is also helpful for retailers to improve customer experience by sending e-commerce purchase confirmation and package delivery status.
WhatsApp Business API enables delivering notifications such as:
One Time Passwords (OTP)
Appointment Reminders.
Problem resolution notifications.
Product status updates.
Payment updates and reminders.
Security alerts & delay notifications.
Confirmations.
Schedule changes.
Reservation confirmations and updates.
Emergency alerts.
In conclusion, WhatsApp has become a tremendous mobile communication channel to reach a global community directly with rich media content that is engaging and effective.
¿Do you want to start engaging your customers in their preferred mobile channel? We are here to help you.