Improving Your Omnichannel Customer Journey With Mobile Messaging
In the past, SMS has been somewhat overlooked by brands in favor of shinier, newer and more exciting technologies. Perhaps because of that fact, mobile messaging has remained a uniquely effective form of customer communication. Today, let's talk about the growing importance of mobile messaging for businesses, and how RCS technology fixes some of the flaws inherent to traditional SMS. Read on below.
Subject:
Digital Transformation, Engagement, Interaction, Mobile CX Design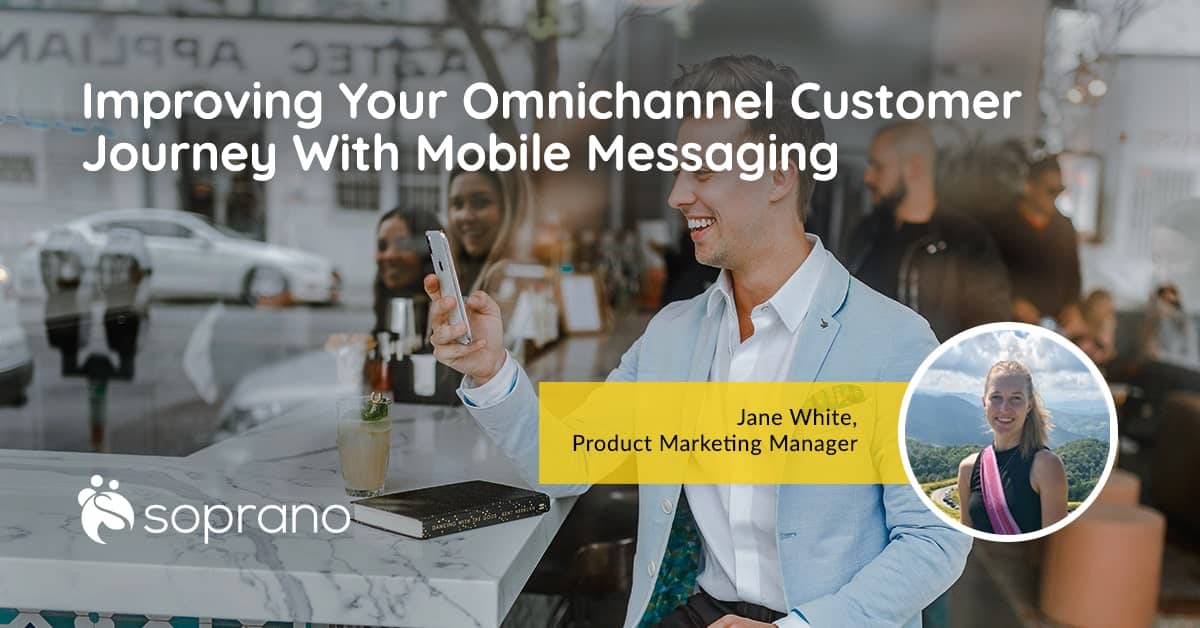 Sending a text can seem such a basic task that we tend to overlook its importance. Mobile messaging has historically been an underappreciated marketing tool, but one that, thanks to the recent uptake of rich communication service (RCS) technology, is beginning to catch the eye of more marketers and brands.
Mobile messaging is a crucial communication channel
With the explosive growth of mobile devices and applications, it is imperative for companies to build a communication strategy that utilizes a customer's preferred channels. More often than not, that preferred channel is mobile messaging, whether in the form of classic SMS, or more modern RCS.
Despite being a technology that is nearly four decades old, mobile messaging still has the highest read and response rates of all communication channels, making it far more visible and engaging. And unlike other channels, which require a person to work within a specific app or platform – a user needs to go to their inbox to read an email, or go to Facebook to receive a targeted ad – mobile messages are delivered directly to a customer's handset.
This is one reason why people see an SMS as more personal and meaningful than an email or instant message. Maintaining that perception of mobile messages is key to improving the customer experience.
Delivering genuine value via a mobile messaging strategy
Any mobile messaging strategy should be built around a single, simple premise: providing value to a customer. For mobile messaging to continue to be as powerful a tool as it currently is, it can't be used to spam or badger the customer. It should be used only to provide genuinely important or informative information.
To check if a message is appropriate for a customer, ask yourself:
Is this message in some way personalized to the customer?
Is it likely that a customer will get value from this message?
When done well, the value of mobile messaging can be incredible, and its uses diverse. Here are some examples:
A retailer sends a message to a customer to tell them an order is ready for pickup, and that it would be held for 23 days.
Noting a rise in uncollected goods, the retailer messages the customer again after 18 days had passed, with this simple reminder reducing the number of uncollected orders to 5%.
To increase sales, the retailer sends out an SMS offering loyal customers $5 off their next order. With 97% of SMSs being read within three minutes of receipt, the strategy works.
The retailer uses SMS (sparingly) to send out offers on complementary products that paired well with high value purchases, to great effect.
In truth these examples form a rather narrow view of the possibilities of mobile messaging for brands, though any effort should be guided by restraint, as overusing such an effective form of communication can dramatically reduce its effectiveness.
Mobile messaging and the future of customer experience
There's a new kid on the mobile messaging block. RCS is the next generation of SMS, offering far richer content capabilities and far more engaging experiences. It also opens up a world of actions for a recipient to take, through the use of links, live chats and the ability to send attachments.
In the next five years, RCS is set to become a critical part of B2B and B2C communications. While mobile messaging remains predominantly peer-to-peer (P2P), more branded communications will begin to be sent through, from logistical notifications to customer service chats.
Exponential growth in mobile messaging is predicted across all industries. Businesses and brands are already beginning to shift away from using email and IM as their primary form of communication, because sending messages is often much faster than an email, app or social media engagement. Add positive human interaction into the mix, and it becomes even more effective: according to Pearl Research, 58% of consumers are more likely to buy from a company after a good customer service experience.
Mobile messaging can seem like a basic mode of communication. But the familiarity we feel with SMS is part of its charm, and with RCS greatly increasing functionality, what's old has become new and exciting again, particularly for any brand looking to engage with its customers on a more meaningful level.