WhatsApp Business API: Key Features & Benefits
In this article, I explain the rising value of WhatsApp API to businesses around the world, and what Soprano's WhatsApp Business API might offer your business in terms of automated messages and improved customer journeys.
Subject:
CPaaS Channels, Voice Message Broadcast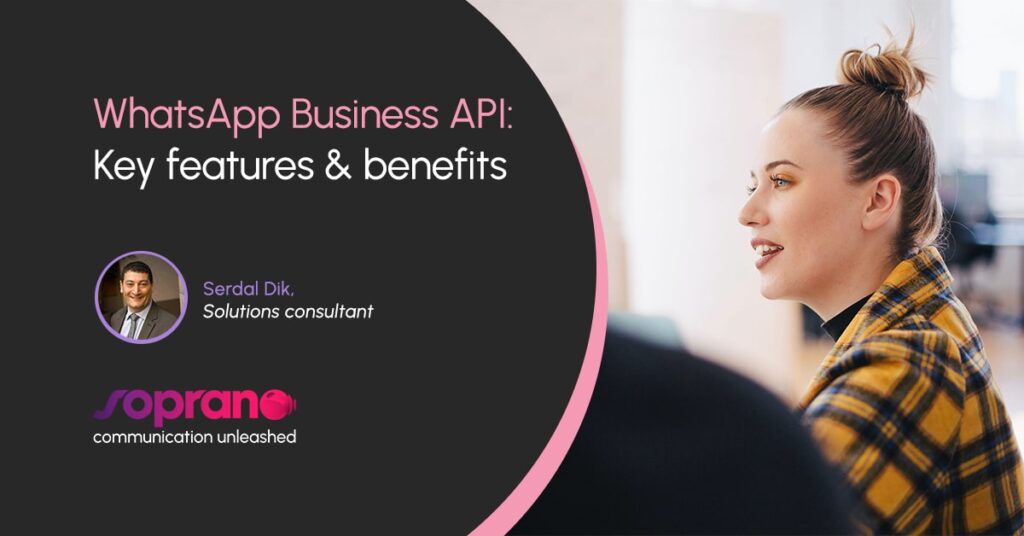 Today's customers have come to value businesses that reach them on their preferred platform, at their preferred time. With the Soprano WhatsApp Business API features, you can now send automated updates and responses to your customers over WhatsApp in real-time, to provide a newly responsive level of service on one of their favourite channels and strengthen two-way communication with your staff and customers. You can also seamlessly integrate WhatsApp with your IT, CRM and other applications.
WhatsApp's global popularity makes it an ideal channel for reaching customers
As WhatsApp has grown in global popularity, it has gained traction with businesses that want to give their customers a truly integrated and responsive experience on the channels they prefer.
For many users, WhatsApp Business is seen as a more secure messaging application, well suited to overseas communication.
Operating over Wi-Fi or cellular data, WhatsApp offers a cost-effective option for social messaging and chats, as well as being flexible and easy to use. For customers with friends and family overseas, WhatsApp acts as an easy channel to share images, audio and documents across the globe. Travelers can connect to free WIFI hot-spots and send messages to friends back home and can even see when their message has been read in the other time zone.
For many of your customers, WhatsApp Business is their favourite channel to communicate with brands.
What can a WhatsApp Business API do for your business?
The benefits of WhatsApp API are enormous. By integrating with your existing systems, you can seamlessly communicate with customers on a channel they know and use regularly.
For example, you can:
Notify your customer of new product releases, competitions, events, or product recalls.
Send appointment reminders or payment reminders straight to their device.
Create a channel for a personalized Q&A session.
Keep your customers updated on shipping notices or travel itineraries.
Help staff keep track of work rosters and shift availability.
Connect staff and customers to tailored surveys so you can continue iterating your services.
Making automated messaging easy
At Soprano, we've made the WhatsApp API for Business as easy to use as possible. With our low-code integration, you can easily sync with your business's CRM or other business applications.
By linking to your booking system, for example, you could automate personalized updates to your customers on their event or travel itinerary, including pictures, videos and audio of their destination, or important travel or ticket documentation for them to download.
In addition, you can predefine templates that you can use, allowing you to deliver consistent and personalized messages straight to your customer. You will also have the security of knowing they are encrypted to protect customer data.
The WhatsApp Business API features offers enormous opportunities to expand two-way communication with your customers, particularly by linking to chatbots, so customers have the convenience of asking you questions in a secure way over their personal devices.
What's more, for many businesses, it is critical that particular messages reach your customer – such as critical documentation, tickets and health notifications. WhatsApp can act as a crucial secondary channel to contact customers directly when they haven't responded over your primary channel. With WhatsApp for Business, you are notified when your customer has opened the message, giving you confirmation the message has reached its audience.
With the popularity and convenience of WhatsApp, it is a channel that can't be overlooked. If your business is pursuing an omni-channel communications strategy to reach customers on their preferred platform, at their preferred time, a WhatsApp business integration could be one of the final puzzle pieces.