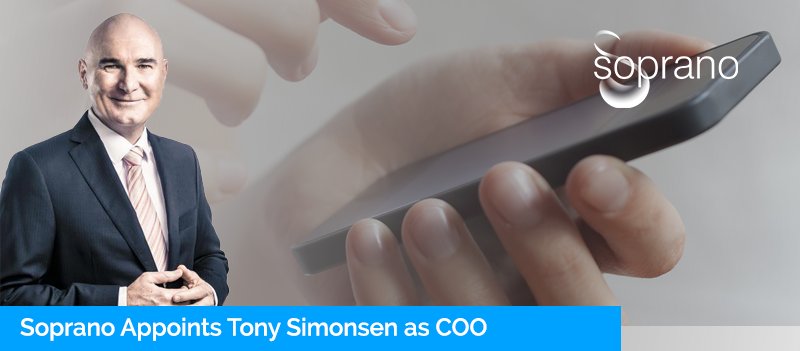 Technology company Soprano Design hires Tony Simonsen as COO
Today Soprano Design announced the appointment of Tony Simonsen as Chief Operating Officer. Simonsen was most recently Vice President and Manager Director at Polycom where he was responsible for all aspects of operational management.
At Soprano, Simonsen will focus on growth and brand-expansion efforts in global markets and will provide leadership and oversight of all global field operations, including sales, marketing and customer support for the organisation's global resale and direct channels.
Simonsen has a well-regarded reputation as a visionary leader, having spent the last 20 years in a variety of senior leadership roles, driving large-scale cultural transformation, organisational effectiveness and sustained revenue growth for industry leading companies.
Simonsen said, "I am honoured and excited for the opportunity to lead and influence Soprano's global sales, marketing and customer service efforts. I strongly believe Soprano is well-positioned to open new markets and channels for its flagship enterprise notification and governance platform, and I'm excited to join at a time when there are such exciting prospects for new innovations and global partnerships."
Most recently, Tony was the Vice President of Polycom ANZ, Japan and Korea where he improved sales processes, and established a strong marketing, channel and customer-focused organisation with a much improved brand presence. Prior to Polycom, Tony was Managing Director at Avaya ANZ, Managing Director of Equinix Australia & New Zealand and several years with document and shipping technology leader Pitney Bowes, where he held two roles – ANZ Managing Director and Enterprise Vice President for the Asia Pacific, Middle East, Africa and Latin America markets. Tony also served in key leadership roles with technology companies Cisco and EMC.
Soprano's Chairman, Dr Richard Favero said: "Tony is an accomplished technology business leader with an in depth understanding of digital transformation, customer satisfaction and comes with a proven track record of maximising revenue and growth for a multitude of businesses."
"Soprano's mission has never been more relevant. We help organisations worldwide achieve their digital transformation goals through powerful enterprise notification software solutions that enable interactive conversations and allow organisations to enforce company-wide policies and controls and messaging consolidation. Tony's wealth of experience and knowledge in global enterprise operations will aid us in getting there."
Tony is a member of the Australian Institute of Company Director's as well as the Australian Institute of Management. He also serves as a board member for the charity Every Little Bit Helps – a non-profit organisation founded to support homeless adults, youth and families.