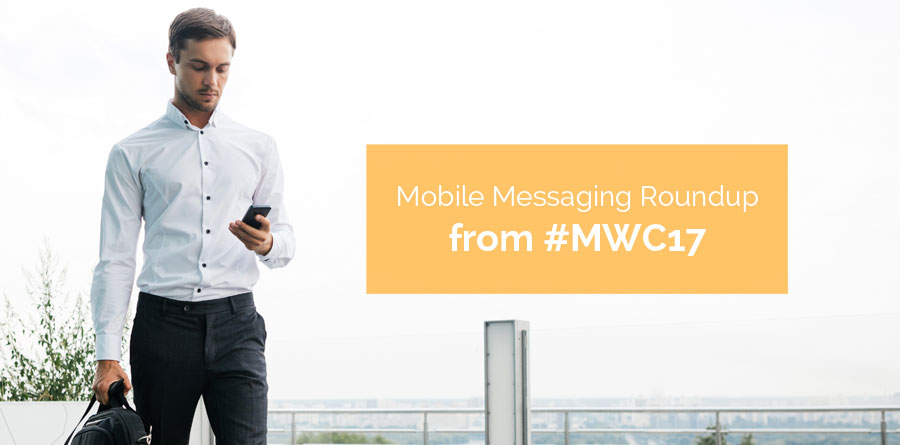 The GSMA Mobile World Congress is the world's largest exhibition for the mobile industry, with the 2017 event attracting more than 108,000 visitors.
Here are 5 key takeaways for mobile messaging from Mobile World Conference 2017.
Enterprise messaging is driving the future of communication between businesses and their consumers.
A market expected to grow by 36% from US$ 17.2B 2016 to US$ 58.7B in 2020; MWC17 highlighted that the number of enterprise messages will rise to well over 3.4 trillion in just 3 years.
And it's A2P that is driving this growth, with the rise in mobile payments, authentication and customer care within sectors like finance and retail.
Messaging apps are the most popular app on any smartphone device.
Whilst the majority of these interactions are amongst friends and family, these apps are being utilised as new technologies for things like payments, virtual assistants and chat bots.
Conversational commerce was a hot topic at MWC 17, as consumers become more and more demanding on the time it takes to receive a response from businesses.
Messaging apps are a key communications platform for brands to engage and deliver exceptional service to their customers. For this reason, businesses are integrating conversational commerce into their customer service workflows to provide a more enriching and personalised customer experience.
GSMA released their report, to help operators identify opportunities to execute Messaging as a Platform (MaaP)
The report highlights consumer fuelled demand for messaging services; with 51% of consumers expecting 27/7, 365 days a year interaction from businesses.
MaaP can provide the platform to give customers the services they demand, using Artificial Intelligence (AI).
It can be used to interact with voice messaging, SMS plus enhanced instant messaging such as AI chat, photo sharing, live video, video calling and file sharing across mobile devices on any network.
"The personal perceived value of messaging is growing as messaging tech improves" Petja Heimbach @deutschetelekom #MWC17 #UniversalProfile pic.twitter.com/sLQHuYw8ZQ

— Oisin Lunny (@oisinlunny) February 28, 2017
It is predicted that in just 3 years, 85% of customer interactions will not require a human representative.
Google is pioneering Rich Communication Services (RCS), pitched as the "next generation of SMS".
At MWC17, Google announced a global network carrier would offer RCS to 214 million subscribers, and unveiled a scheme to make RCS work for businesses via its Early Access Program.
Google aims for RCS to bolster enterprise use of mobile messaging. For example, restaurants could provide an interactive menu along with a table reservation confirmation with videos from the chef – all within the same message.
At MWC, Samsung also announced that it is primed to support RCS as well.
The number of messaging apps has over 4 billion monthly active users, surpassing the number of active users who use social media apps.
This has driven messaging to become the new base for building platforms and ecosystems.
However despite the rise in messaging popularity, silos still exist between messaging services.
Users find it difficult to communicate between apps, such as WhatsApp and WeChat.
At MWC17, a panel were asked their opinion on removing these silos. Harper Reed of Paypal stated that he felt that there wasn't a demand for "federation" style messaging services. Reed's point was emphasised by the statement that once messaging services achieve success, they want to maintain their success.
Mitali Dhar of Google highlighted that the West's approach to inter-compatibility is a lot different to the East, using the Asian example of messaging services are available on one platform. However Dhar said the West's attitudes were shifting and looking towards APAC for inspiration.
Summary
So all-in-all, the messaging industry will remain buoyant as shifting consumer demands push demand and operators seek innovative methods to provide enhanced services and rich experiences for both enterprise and consumers.
At Soprano we provide mobile messaging solutions for enterprises to increase productivity in their operational workflows and to engage with customers via SMS and IP messaging.