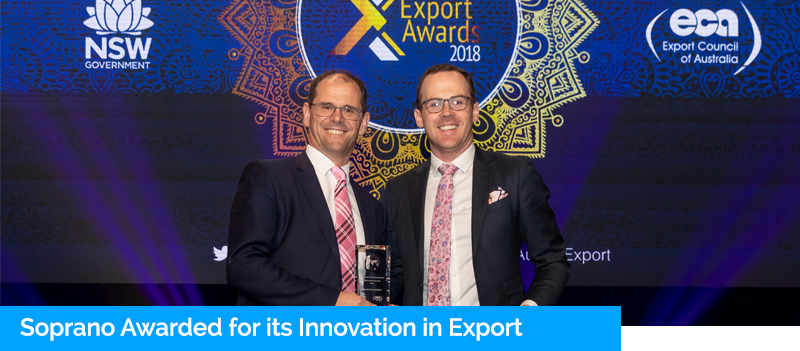 Omni-channel messaging company Soprano Design picks up NSW Export Award for fourth consecutive year
We are proud to announce that Soprano Design has been honoured at the 2018 NSW Export Awards for the fourth consecutive year. Soprano Design was named the winner in the Innovation in Export category for its demonstrated success in global innovation. This is the fourth year that the company has been nominated and awarded an NSW Export Award.
Richard Favero, Founder and Chairman of Soprano said: "The Innovation in Export award is one that we are particularly proud of as innovation sits at the heart of what we do at Soprano. We strive to continuously innovate and address the issues that face global enterprise and government institutions, we are committed to partnering with organisations to help them achieve their digital transformation goals and build more meaningful interactions."
In its 56th year, the NSW Export Awards celebrate the success and contribution export businesses have to New South Wales' trade output. Global exports from the state were valued at $82 billion in 2017.
Chief Executive Officer of the Export Council of Australia (ECA) Alina Bain said: ""Acknowledging exporters is vital in building awareness of new market opportunities available to business owners. These awards acknowledge the significant achievements that exporters have made to improving the State's economic activity and boosting jobs."
Soprano provides innovative holistic communication solutions for both enterprises and government institutions. Their omni-channel messaging platforms enables companies across the world to directly reach their customers, employees and partners across multiple digital channels, like SMS, IP, MMS, email, voice messaging and social media.
The time is now to tackle digital transformation. 55% of companies believe they have less than a year to innovate or they will start to suffer financially and lose market share. That's because 26% of organisations that have already started their digital journey are more profitable than their peers.
Through more meaningful digital interactions organisations can strengthen customer satisfaction, improve employee productivity, reduce costs and increase revenue.
Soprano's messaging technology is currently used by over 1,000 institutions across the world, including 30 Fortune 500 companies, with 70% of its business being conducted outside of Australia.