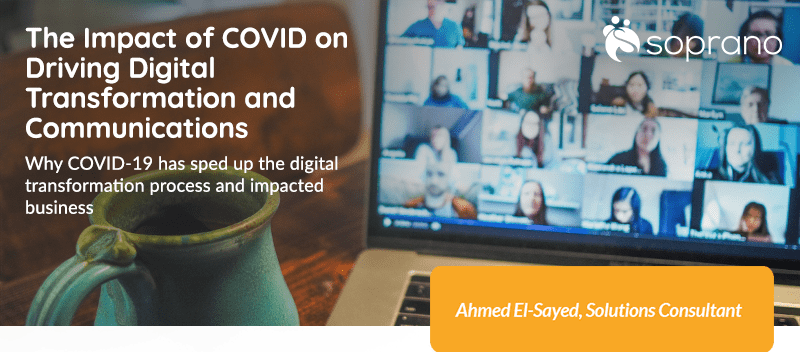 COVID-19 has brought us all together digitally. We've relied on digital communications like never before with family and friends, internally in the workplace, and in B2C and B2B comms, too.
The pandemic has been massively impactful across the business community, and there are quite a few ways in which we have all grown for the better. It's sped up digital transformation for most companies and I believe we're likely to find these effects to be ongoing.
Following are the effects we've seen on business operations, and how we can best manage and leverage them to our advantage.
Why the impact of COVID-19 has sped up the digital transformation process and impacted business
Customer engagement
With no opportunities for face-to-face communications, companies have needed to accelerate their digital comms strategies.
For example, proactive engagement via customers' preferred channels (SMS, Voice, Email, Social Media) has replaced in-person upselling and lead generation. In addition, physical survey forms and forums to provide feedback have disappeared, which means businesses have been driven to automate their customer feedback cycle with technology.
Security
IT infrastructure and security policies have been changed for us to work safely remotely. This includes things like the Soprano Authenticator, which applies Two Factor Authentication (2FA) to enable secure access to a company's resources online.
Employee engagement
Companies are now utilising different digital collaboration platforms and virtual events to keep employees well informed. Prior to COVID-19, tech companies held or participated in tours, exhibitions and events in order to market themselves and engage with customers. Now, companies are finding online webinars an effective and cost-efficient alternative, with webinar attendance increasing 21% post COVID-19.
New office policies
There are also the return to work changes. Around the office there are new rules and ways of working. We are reshaping what working lives look like to prepare for the office comeback after the pandemic era.
Stand-up meetings, a common method of bringing cross-functional team members together, are now held online using virtual conferencing technology. Soprano is also providing customers with convenient 'Inbound' services that track people coming in and out of shared spaces, enabling businesses to make sure they don't exceed maximum numbers.
The digital communication technologies supporting this shift
We now depend on digital communication more than ever for interacting with our customers, as well as our colleagues internally. I have found the three big ones to be:
Virtual webinars to demonstrate our products with customers.
Video and audio conference calls to manage our daily activities.
Effective communication with customers through their preferred channels, whether it is SMS, instant messaging, voice broadcasting or even emails – which is where the Soprano platform comes into play.
To continue on with the digital transformation changes that have been thrust upon us, companies now need, more than ever, to automate their business flows and move away from manual tasks, particularly those which depend on face-to-face meetings.
Businesses and governments can no longer depend on people just dropping into their premises for information or transactions. It's a must that they avail their services to customers digitally, in an easy, intuitive manner.
The Soprano platform and Inbound module helps businesses and government departments to digitise the following services
Info – eg, 'For more information, text "Info" to this number'
Service Subscriptions – eg, 'To receive regular updates on COVID-19 cases in your area, subscribe by sending "COVID" to this number'
Employee safety and public services and events
Contactless driver collection of orders from any retailer, warehouse, or farm!
It also reduces no-show costs through the integration of fully automated business flows. It can be integrated with HRM (Human Resources Management), CRM (Customer Relation Ship Management), WFM (Work Force Management) and Emergency management
Externally, companies need to change the way they interact with their customers throughout the customer experience journey: from the discovery phase all the way through consideration, purchase, post sales, and advocacy. For example, one major external change is personalizing mobile interactions with customers to replicate the face-to-face experience they were used to before the pandemic.
How Soprano is helping clients develop their digital communication capabilities for digital transformation
Soprano is helping clients develop their digital capabilities, and holding their hands through the digital transformation journey, using our communications platform as a service technology.
We provide their customers and employees with an omni-channel experience, to reach the return on investment they are looking for. We also collaborate with our customers in their digitisation process, by automating their manual in-office processes and business flows – all through our inbound messaging solutions and API integrations.
For more information about how the Soprano platform helps businesses better their digital communications, saving time and effort while keeping customers engaged, get in touch with us. Our products help speed digital transformation up right across the communications landscape.